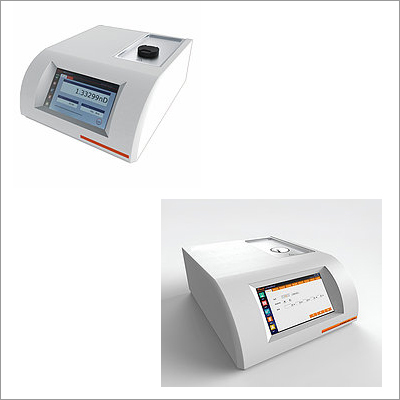 Product Description
With our Automatic Refractometer (A670), you are sure to obtain the best Performance for your Research Laboratories. This instrument definitely has highest measurement ranges. The scope of RI measurement is also extra wide and is integrated with efficient, automatic electronic temperature control, by which cooling as well as heating can be managed. Its common use is found in industries such as essential oils, chemical, pharmaceutical, cosmetic and petroleum. This model of Automatic Refractometer has a modern and new cloud service system by which you can maintain a regular connection between the connected equipment in the laboratory and Cloud. The instrument meets the following criteria that are listed under 21CFR part 11:

Features :-
Data tamper-proof
E-signature
User ID classification & tracking

Key Points / Specifications of Automatic Refractometer :-

It has an in-built secondary temperature control system, which is very accurate.
Its measuring prism has sapphire glass construction. The material has high hardness and possess outstanding features of scratch resistance, corrosion resistance and high durability.
Automatic measurement is ensured by the presence of high-resolution CCD detector. This innovative detector helps in averting personal errors and has features of increased precision. Sample that are available are ropiness liquids or transparent, translucent liquids.
Electricity-efficient LED light source has over 100000 hours of working life.
Huge 4GB storage capacity allows storing of nearly 1000 groups of data.
Convenient operation and reading of data is ensured via an operating interface (window based), touch screen (inch color display) and one-touch testing.
2 USB port, RS232 port and internet port facilitates in connecting Internet or Printer. For exporting data, SD card port and U disk options are also provided.
Innovatively cloud service system of A670, let the cloud data with instruments connected, lead the laboratory to Cloud generation. Completely meet the requirements of user ID classification & tracking, E-signature, and Data tamper-proof, which listed in 21CFR part 11.
Pettier accurate temperature control system is built-in.
Measuring prism is made of high hardness sapphire glass, of excellent properties against corrosion and scratches, free for clean and durable.
High-resolution CCD detector offers automatic measurement, avoiding personal errors, having higher accuracy; transparent, translucent liquids or ropiness liquids samples are all available.
LED light source with the long working life more than 100000 hours.
Extremely 4G storage capacity can store up to 1000 groups of data.
Inch color touch screen, Windows type operating interface, One-touch testing, let the operating and data reading more convenient.
2 USB port, RS232 port and internet port for connecting printer or internet, U disk and SD card port for data exporting.
Technical Specifications :-

| | |
| --- | --- |
| Refractive index measuring range (nD) | 1.30000 - 1.70000 |
| Measured value error (nD) | ±0.0001 |
| Measurement resolution (nD) | 0.0001/0.00001 |
| Scope of sugar solution mass fraction (Brix) | 0-100% |
| Measured value error (Brix) | ±0.1% |
| Measurement resolution (Brix) | 0.1%/0.01% |
| Temperature control mode | Built-in semiconductor |
| Scope of temperature measuring | 10 - 85°C |
| Temperature control range | 5 - 70 °C |
| Temperature control accuracy | ±0.05°C |
| Interface | RS232/USB/SD card/U disk/Internet |
| Data storage capacity | 4GB |
| Display modes | 7 inches, TFT touch screen |
| Power supply(Power adapter) | 110V - 240V(12V, 10A) |
| Power | 45W |
| Net weight | 12kg |
| Dimensions | 365x300x150mm |