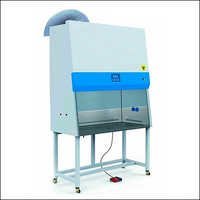 B2 Biological Safety Cabinet
Product Description
B2 Biological Safety Cabinet
come with higher level of safety protection equivalence with type A2. It may be utilized for work with radionuclide and volatile toxic chemicals as needed as adjuncts to microbiological surveys.
Features :-
Large digital display is simple to supervise and manage all the safety parameters at a glimpse and ergonomically sized control panel amends user interface.
Work zone, fabricated with 304 stainless steel, is enclosed by negative pressure.
All utilities can be accomplished with it, making the work much easier and more expedient.
Discharge of 253.7 nanometers for most expeditious decontamination.
Two-layer sheeted thickened glass>5mm, anti UV
Universal caster with leveling feet and brake.
Modify front window dimension by foot during experimentation, to obviate airflow turbulence grounded by arm motion.
Centrifugal fan, adjustable speed.
Airflow system : 0 % air recirculation, 100% air exhaust.

Technical Specifications :-

Model

BSC-1100IIB2-X

BSC-1300IIB2-X

BSC-1500IIB2-X

BSC-1800IIB2-X

Internal Size (WxDxH)

940x600x660mm

1150x600x660mm

1350x600x660mm

1670x600x660mm

External Size (WxDxH)

1100x750x2250mm

1300x750x2250mm

1500x760x2250mm

1820x750x2250mm

Tested Opening

Safety Height ≤200 mm (8")

Max Opening

420 mm (17")

420 mm (17")

500mm (20")

500mm (20")

Inflow Velocity

0.53±0.025 m/s

Downflow Velocity

0.33±0.025 m/s

Pre-Filter

Washable

HEPA Filter

Two, 99.999% efficient at 0.3 um. Filter life indicator.

Front Window

Motorized. Two-layer laminated toughened glass ≥5mm. Anti UV

Noise

NSF49≤61dB / EN12469≤58 dB

UV Lamp

30W× 1

18W× 1

40W× 1

40W× 2




UV timer, UV life indicator, emission of 253.7 nanometers for most efficient decontamination.

Fluorescent Lamp

21W× 2

21W× 2

28W× 2

40W× 2

Illumination

≥1000Lux

Consumption

700W

850W

900W

1200W

Waterproof Sockets

Two, total load of two sockets: 500W

Display

LCD display: exhaust filter and downflow filter pressure, filter and UV lamp working time, inflow and downflow velocity, filter life, humidity and temperature, system working time etc.

Control System

Microprocessor

Airflow System

0% air re-circulation, 100% air exhaust

Visual and Audio Alarm

Filter replacement, window over height, abnormal air flow velocity.

Exhaust Duct

4 meters PVC duct, Diameter:300mm

Material

Work Zone: 304 stainless steel




Main Body: Cold-rolled steel with anti-bacteria powder coating.

Work Surface Height

750mm

Caster

Footmaster caster

Power Supply

110/220V±10%, 60/50Hz (110V/60Hz is not applicable to BSC-1800IIB2-X)

Standard Accessory

Fluorescent lamp, UV lampx2 ,base stand, remote control, foot switch, exhaust blower, exhaust duct, drain valve, waterproof socketsx2, pipe strapx2.

Optional Accessory

Water and gas tap

Gross Weight

246kg

276kg

302kg

408kg

Package

Main Body (WxDxH)

1220x1000x1840mm

1460x1050x1800mm

1650x990x1800mm

1950x990x1950mm




Exhaust Blower (WxDxH)

970x810x630mm

970x810x630mm

970x810x630mm

970x810x630mm