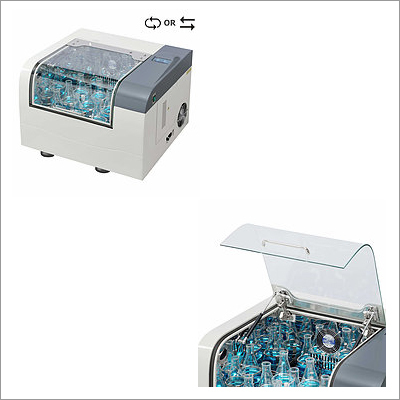 Benchtop Incubator Shaker
Product Code : 200BT
Product Description
Owing to our good supply chain, we are instrumental in offering the best quality collection of Benchtop Incubator Shaker. Widely demanded in laboratories, this shaker is used for growing bacterial cultures, tissue cultures and yeast. Having enhanced durability, the provided shaker can be purchased from us in bulk at cost effective prices. Manufactured using pristine grade components, this Benchtop Incubator Shaker is also tested on numerous quality parameters by experts.
Over the years, we have grown to become one of the leading traders and exporters of Benchtop Incubator Shaker that is designed by experts for ensuring trouble free performance for years to come. The product is fitted with alarm controls (light & sound) that is activated whenever the temperate or speed is above or below the prescribed limits. The Benchtop Incubator Shaker we provide also comes with a separate over-temperature protector, a clock display and a temperature display that shows the room temp. as well as the actual temperature. It is made available with 8 curves settings and also has an inbuilt micro printer.

Features :-

Trouble free functioning
Strong built
Easy to use
Requires less maintenance
Key Points :-
Touch screen panel clearly indicates all parameters
Sound and light alarm for temperatures above or below the upper or lower limit; alarm for speeds above or below the upper or lower limit; separate over-temperature protector; shutdown protection for door opening; leakage or over current protector
Storage of rotary speed, startup after power again, recording of parameters, temperature and speed calibration, clock display and display of room temperature and actual temperature
Programming of repetition, steps and eight curves settings Embedded built-in micro printer External humidifier Using advanced wireless communications for networking with computer; a computer can be connected to 20 shakers at the same time
Real-time recording and viewing data such as temperature, speed, with visual display of curves. Computers can be directly programmed to control the running, stopping of shakers, and can easily view historical data, and print it out via computers
Timer 0-500 hours or continuous
Intelligent defrosting can ensure the long time continuous operation in the low-temperature state
High/ Low temperature alarm
Can be connected with computer to programming, and print the data out.
Technical Specifications :-
| | |
| --- | --- |
| Model | BIS-200BT |
| Control mode | P, I, D (Microcomputer scans the micro-processing chip) |
| Display mode | True-color touch screen |
| Circulation mode | Forced convection |
| Shaking mode | Orbital or Linear |
| Drive mode | Balancing device with single shaft (Chinese patent) |
| Environmental requirements | Temperature 25°C , humidity 20%-90% |
| Door opening mode | Flip-up door |
| Temperature range | 4°C-60°C |
| Accuracy of temperature | ±0.1°C |
| Temperature uniformity | ±0.5°C |
| Humidity range | 45-90% |
| Rotary frequency | 50~300rpm |
| Rotary accuracy | ±1rpm |
| Curve programming | Eight segmented programming |
| Time per segment | 999.99min |
| Shimmy amplitude | Dia. 25 (mm) |
| Acceleration | Slow start upon power-up |
| Coolant | CFC-Free (134A) safe cooling system |
| Cooler | 118W |
| Heater | 400W |
| Timing range | 0 – 500 hours/continuous |
| Size of shaking plate | 420×400 |
| Number of shaking plate | One |
| Net weight | 100kg |
| Volume | 80L |
| Shape size | 700×740×560 |
| Size of cavity | 460×500×350 |
| Power | 580W |
| Motor | 60W Inverter motor |
| Power supply | AC 200~240V 50~60HZ |
| Material of cavity | Imported high quality stainless steel mirror panel |
| Material of box | High-quality and high-tensile channel steel, angle steel and cold steel sheets |