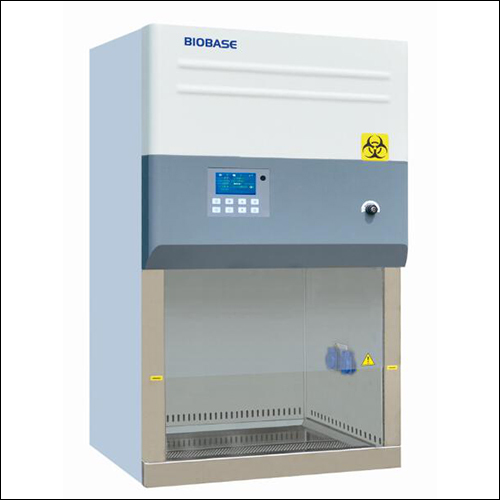 Product Description
Biological Safety Cabinet is an enclosed ventilated laboratory workspace with the primary purpose to serve as a means to protect the laboratory worker and the surrounding enviroment from contaminated materials with pathogens requiring a defined biosafety level. Our offered Biological Safety Cabinet are designed to meet diverse applications in the life science, pharmaceutical, industrial and clinical laboratory.
Features :-

Three protection: sample, operator and environment.
Airflow method: 30% air exhaust, 70% air recirculation
A2 Cabinet is appropriate for working with microbiological research in the deficiency of toxic or volatile chemicals and radionuclide.
Technical Specifications :-

Model

11231BBC86

External Size(WxDxH)

700x650x1230 mm

Internal Size(WxDxH)

600x500x540 mm

Tested Opening

Safety height: 200mm(8")

Max Opening

370 mm(15'')

Inflow Velocity

0.53±0.025 m/s

Down Flow Velocity

0.33±0.025 m/s

HEPA Filter

Two, 99.999% efficient at 0.3μm. Filter life indicator.

Front Window

Motorized. Two-layer laminated toughened glass ≥ 5mm. Anti UV.

Noise

EN12469 ≤ 58 dB / NSF49 ≤ 61 dB

UV Lamp

15Wx1




UV timer, UV life indicator, emission of 253.7 nanometers for most efficient decontamination.

Fluorescent Lamp

40Wx1

Illumination

≥1000Lux

Consumption

500W

Socket

Two, total load of two sockets: 500W

Display

LCD display: exhaust filter and downflow filter pressure, filter and

UV lamp working time, inflow and downflow velocity,filter life,

humidity and temperature, system working time etc.

Control System

Microprocessor

Airflow System

70% air recirculation, 30% air exhaust

Visual and Audio alarm

Filter replacement, window over height, abnormal air flow velocity.

Material

Work Zone: 304 stainless steel




Main Body: Cold-rolled steel with anti-bacteria powder coating.

Work Surface Height

750mm with optional base stand

Power Supply

AC220V±10%, 50/60Hz; 110V±10%,60Hz

Standard Accessory

Fluorescent lamp, UV lampx2, Remote control, Waterproof socketsx2

Optional Accessory

Base stand, Universal caster with brake and leveling feet.

Gross Weight without Base Stand

Wooden: 164kg Carton:121kg

Gross weight with Base Stand

Wooden:196kg

Package Size without Base Stand (WxDxH)

Wooden:860x800x1450mm Carton:820x760x1430mm

Package Size with Base Stand (WxDxH)

Wooden: 860x960x1450mm