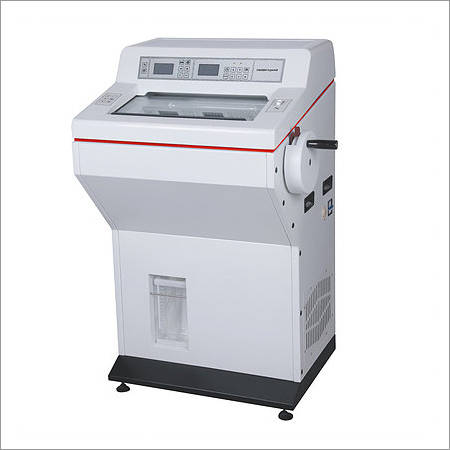 Cryostat Microtome
Price And Quantity
5000.00 - 7000.00 USD ($)
Product Description
Our
cryostat microtome
is particularly outlined for cryo-techniques appropriate for research and clinical operations. It is broadly utilized in every sort of laboratory operations as well as is suitable for trimming think parts of fresh icy material. The ergonomic design of our product ensures eased efficient operating conditions. Our
Automatic cryostat microtome
provides ease of use, versatility and high performance to make it suitable device in every kinds of medicinal work.
Features :-
Our instrument has an ergonomic plan and is made utilizing numerically-regulated machine devices.
An example withdrawal work shields the example from edge harm.
A cur button takes into account simple exchanging amongst trim and separating mode.
Incorporates an including capacity for the quantity of areas and the complete thickness.
Technical Specifications :-
Chamber Temperature

-10°C ~ -40°C

Specimen Head Temperature

-10°C ~ -40°C

Time to reach -40°C of the quick-freeze shelf

60 minutes

Lowest possible temperature of the Peltier element

-45°C

Lowest possible temperature of the Peltier element together with quick-freeze shelf

below -60°C

Running time of the Peltier element

15minutes

Maximum Specimen Size

35mm×35mm

Specimen Vertical Stroke

60mm

Specimen Horizontal Stroke

20mm

Electric Coarse Feed

rapid 0.7mm/s; slow 0.35mm/s

The section thickness is adjusted in a range of 1μm to 100μm

1μm - 20μm, increments 1μm
20μm - 40μm, increments 2μm
40μm - 100μm, increments 5μm

Trim Section Thickness Feed: adjusted in the range of 10μm to 400μm

10μm - 50μm, increments 5μm
50μm - 100μm, increments 10μm
100μm - 400μm, increments 50μm

Specimen Retraction Distance

adjustable in a range of 0 ~ 80μm, in 5μm increments

Working Voltage

AC220V±10% 50Hz; AC110V±10% 60Hz

Power

600W

Dimensions

650×805×1160mm (W×D×H)

Net Weight

115 Kg