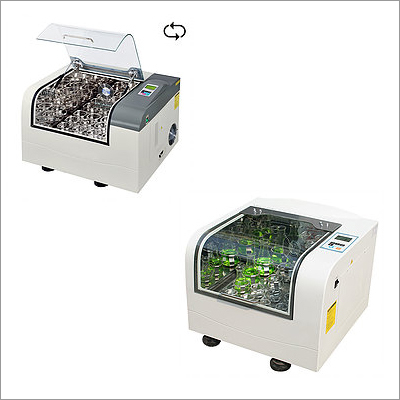 Product Description
We take process analysis and measurement to an entirely new level with our range of innovatively designed and competitively priced Lab Glassware and allied equipment. One of our most popular products is D series Incubator Shaker that is mainly used in labs for facilitating the growth of bacterial cultures, tissue cultures, etc. The wide selection of D series Incubator Shaker we offer gives user friendly operation and has reliable designs (a sealed digital panel to prevent liquid penetration). The apparatus is also characterized by the original single-axis drive mechanism and can be operated in a noise free manner even at Speed of 30~600rpm.

Features :-

Automatically stops when door is opened
Auto recovery once the power is re-stored
Has a maintenance-free, sturdy, brushless motor
Timer 0-500 hours with intelligent defrosting technology
Temperature alarm
Digital panel is sealed to prevent liquid penetration
High Speed 30~600rpm
The domestic original single-axis drive mechanism, silent working
Auto stop when door is opened
Auto recovery when power is re-stored
Maintenance-free brushless motor for long life operation
Soft start to prevent splashing of samples
Timer 0-500 hours
Intelligent defrosting can ensure the long time continuous operation in the low-temperature state
High/ Low temperature alarm.
Technical Specifications :-
Model

BIS-103D

BIS-100D

BIS-200D

Temperature Range

Rt. +5°C-60°C

Rt. +5°C-60°C

4°C-60°C

Accuracy of Temperature

±0.1°C

√

√

Temperature uniformity

±0.5°C

√

√

Speed Range

30~600rpm

√

√

Speed Accuracy

±1rpm

√

√

Shimmy amplitude

Dia. 5mm

√

√

Safety Function

Sound and light alarm for temperatures above or below the upper or lower limit;

alarm for speeds above or below the upper or lower limit;

separate over-temperature protector;

shutdown protection for door opening.

√

√

Additional Functions

Storage of rotary speed, startup after power again, recording of parameters, temperature and speed calibration, clock display and display of room temperature and actual temperature.

√

√

Programming Function

Programming of repetition, steps and eight curves settings

√

√

Coolant

-

-

CFC-Free (134A) safe cooling system

Cooler

-

-

118W

Heater

150W

400W

400W

Size of Shaking Plate

260×260 mm

400×370 mm

420×400 mm

Maximum Capacity

100ml × 9 or 250ml × 4

500ml × 9 or 250ml × 12

2000ml × 5 or 1000ml × 9 or 500ml × 9 or 250ml × 16

Standard Configuration

100ml × 9

500ml × 3/250ml × 3/100ml × 4/50ml × 4

500ml × 3/250ml × 4/100ml × 5/50ml × 5

Net Weight

31kg

72kg

100kg

Gross Weight

54kg

94kg

132kg

Size of Chamber

360×340×280 mm

410×450×300 mm

460×500×350 mm

Dimension

560×530×560 mm

610×610×510 mm

700×740×560 mm

Power

280W

490W

580W