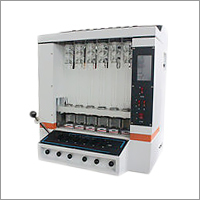 FA700 Crude Fiber Analyzer
Product Code : FA700
Product Description
We have attained a distinct position in the market by putting forward an excellent array of Crude Fiber Analyzer. It is manufactured by a team of deft professionals using premium class components with the aid of sophisticated techniques as per predefined industry norms. It is appreciated to be used in food-processing industry for assessment of coarse fiber content in edibles. This Crude Fiber Analyzer can be purchased from us at economical prices.
FA700 crude fiber analyzer has a completely enclosed electric heating. Other processes such as addition of liquid, digestion, filtration and washing is done in an enclosed structure. Through these processes, the crude fiber content available in the sample is calculated. It has following operating principles:

Acid and alkali washing method
Set of acid, alkali digestion & suction filtration method

In case, you are working without any sample, simply select the manual mode of temperature adjustment. This will result in fast and precise output of the material decomposed and hence the crude fiber content. This crude fiber analyzer is used for food, feed and agricultural products of cellulose, lignin, crude fiber and hemicelluloses.

Key points:

High performance
Provides accurate results
Impeccable functional life
Simple maintenance
FA700 crude fiber analyzer is based on the principle of the acid and alkali washing method, set of acid, alkali digestion and suction filtration function; it is fully enclosed electric heating, add liquid, Digestion, filtration, washing method to determine crude fiber content of the sample. In operation without sample divert, and according to the desired temperature to individually adjust, thereby accurately and quickly the material decomposed crude fiber content. This applies to determination the content of food, feed, foods and other agricultural products of crude fiber, lignin, cellulose and hemicelluloses.

Technical Specification:

The test range: 0 to 100%
The number of samples: samples 1 to 6
The sample is measured: 0.5~3g
Test accuracy: repeatability ≤0.4%
Test time: ≤90min
Heating: semicircular type silicon carbide heating, single temperature control
Sealing method: ptfe material sealed
Dosing: pressure injection
Reagent heating: automatic temperature adjustable over-temperature protection
Corrosion resistance: acid, alkali and acetone
4.3-inch touch screen
Temperature control mode: by holding control, adjust the power to heat.
Temperature range: Rt.~400°C
Power supply: 220V ± 10%, 50 ~ 60Hz
Rated power: 2700 W
Dimensions: 560×340×640 mm
Weight: 40 Kg