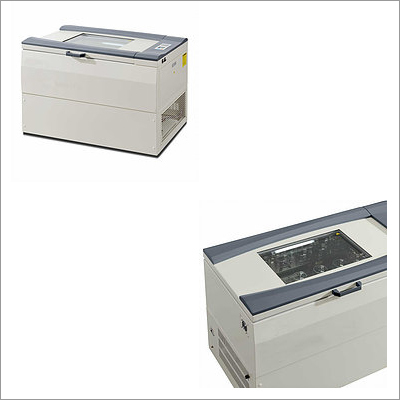 Floor Type Incubator Shaker
Product Code : 04
2500.00 - 3500.00 USD ($)
Price And Quantity
Minimum Order Quantity

:

1
Unit of Measure

:

Set/Sets
Price Range

:

2500.00 - 3500.00 USD ($)
Product Description
With an aim to make lab work faster and easier, we as a trader and exporter offer a quality trusted assortment of Floor-type Incubator Shaker. This apparatus is manufactured in sync with latest design technology by our diligent vendors employing best of breed raw components and parts. Today, these Floor-type Incubator Shaker we offer find many applications in labs, especially for facilitating biological cell growth. The apparatus features ergonomic designs, smart defrosting technology, large displays and can be availed at marginal prices. Owing to rich product features, this apparatus also guarantees long time continuous operation even in low temperature states.

Features :-

Hassle free usage
World class design
Great durability
No maintenance
Key Points :-
PID microcomputer scanning controller multi-function incubator shaker.
Ergonomic design with tempered glass window.
Large LCD displays pre-set and actual working parameters.
Password access prevents unauthorized alteration of pre-set parameters.
Intelligent defrosting can ensure the long time continuous operation in the low-temperature state.
Auto stop when door is opened.
Auto recovery when power is re-stored.
Maintenance-free brushless motor for long life operation.
Soft start to prevent splashing of samples.
Timer 0-500 hours.
Illuminating lights or UV light are inside for use.
High/ Low temperature alarm.
Forced air convection.
Technical Specifications :-

| | | | | | | |
| --- | --- | --- | --- | --- | --- | --- |
| Model of products | FIS-111B | FIS-211B | FIS-111C | FIS-211C | FIS-111D | FIS-211D |
| Control mode | PID (Microcomputer scans the micro-processing chip) | √ | √ | √ | √ | √ |
| Display mode | LCD (Double display of liquid crystal screen ) | √ | √ | √ | √ | √ |
| Circulation mode | Forced convection | √ | √ | √ | √ | √ |
| Shaking mode | Orbital | √ | √ | √ | √ | √ |
| Drive mode | Balancing device with single shaft | √ | √ | √ | √ | √ |
| Temperature range | Rt.+5°C-60°C | 4°C-60°C | Rt.+5°C-60°C | 4°C-60°C | Rt.+5°C-60°C | 4°C-60°C |
| Accuracy of temperature | ±0.1°C | √ | √ | √ | √ | √ |
| Temperature uniformity | ±0.5°C | √ | √ | √ | √ | √ |
| Rotary frequency | 50~300rpm | √ | √ | √ | √ | √ |
| Rotary accuracy | ±1rpm | √ | √ | √ | √ | √ |
| Shimmy amplitude | Dia. 25mm | Dia. 25mm | Dia. 25mm | Dia. 25mm | Dia. 50mm | Dia. 50mm |
| Safety functions | Sound and light alarm for temperatures above or below the upper or lower limit; alarm for speeds above or below the upper or lower limit; separate over-temperature protector; shutdown protection for door opening; leakage or over current protector. | √ | √ | √ | √ | √ |
| Additional functions | Storage of rotary speed, startup after power again, recording of parameters, temperature and speed calibration, clock display and display of room temperature and actual temperature. | √ | √ | √ | √ | √ |
| Programming function | Programming of repetition, steps and eight curves settings | √ | √ | √ | √ | √ |
| Coolant | - | CFC-Free (134A) | - | CFC-Free (134A) | - | CFC-Free (134A) |
| Cooler | - | 200W | - | 200W | - | 200W |
| Heater | 800W | √ | √ | √ | √ | √ |
| Timing range | 0 – 500 hours/continuous | √ | √ | √ | √ | √ |
| Size of shaking plate | 920×500 mm | √ | √ | √ | √ | √ |
| Standard configuration | 500ml x 28 | √ | √ | √ | √ | √ |
| Maximum capacity | 2000ml x 10 or 1000ml x 18 or 500ml x 28 or 250ml x 36 | 2000ml x 10 or 1000ml x 18 or 500ml x 28 or 250ml x 36 | 5000ml x 6 or 2000ml x 10 or 1000ml x 18 or 500ml x 28 or 250ml x 36 | 5000ml x 6 or 2000ml x 10 or 1000ml x 18 or 500ml x 28 or 250ml x 36 | 2000ml x 10 or 1000ml x 18 or 500ml x 28 or 250ml x 36 | 2000ml x 10 or 1000ml x 18 or 500ml x 28 or 250ml x 36 |
| Net weight | 150kg | 180kg | 160kg | 185kg | 310kg | 340kg |
| ize of cavity | 970×550×350 mm | 970×550×350 mm | 970×550×460 mm | 970×550×460 mm | 970×550×350 mm | 970×550×350 mm |
| Shape size | 1250×740×840 mm | 1250×740×840 mm | 1250×740×980 mmm | 1250×740×980 mm | 1250×740×840 mm | 1250×740×840 mm |
| Power | 960W | 1120W | 960W | 1120W | 960W | 1120W |
| Motor | 120W Inverter motor | √ | √ | √ | √ | √ |
| Power supply | AC 200~240V 50~60HZ | √ | √ | √ | √ | √ |