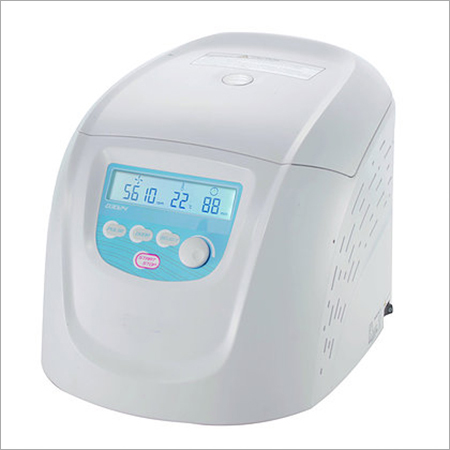 Product Description
Features :-

D3024 High Speed Micro Centrifuge
15000 rpm, Max. RCF 21380 x g
LCD display
Brush-less motor
2 year warranty
Precise control :-

Breathless DC motor accelerates promptly and simply to the set speed.
Advanced quality of speed in ±20 rpm.
Procedure can be timed from 30 seconds to 99 minutes or utilized in continuous manner.
Timer outsets once the reference point speed is ranged, for straight separation time.
Ergonomic designing :-

User-friendly big LCD display displays running info.
Both RPM or G-force can be exhibited and set.
The parameters can be altered after the fixed speed is orbited.
The short spin utility is utilized for fast spins by pressing and keeping PULSE key. The centrifuge rate can be expedited and clutched at the mark speed.
Simple-to-read display and safe alerts.
Powerful and cost-efficient cooling system :-

Pre-cooling gives cool down prior to procedure and keeps the enclosure at the pre-set temperature.
Powerful cooling system rapidly cools down enclosure to 2oC after only 7 minutes and keeps the instances temperature under 2oC at maximal speed.
Specific cooling system design decreases rotor heating to less than 10oC after moving for 1 hour.
Dependable alert and the lid remains blocked after operation to hold out the assembly temperature.
Periodic temperature control mode, CFC-free refrigerating and low carbon life.
Rotor capacity :-

Bio-safe rotor/anti-sample overflow insures the instances do not leak during the centrifugal procedure, help in preventing microbial impurity.
Advanced strength aluminum alloy rotor can be amply autoclaved, with limitless service life.
Four rotors are elective, comes with 24 × 1.5/2.0ml tubes. Small 0.2ml and 0.5ml tubes can be utilized with adapters.
Technical Specifications :-

Max. Speed

15000 rpm (200~15000rpm), increment: 10 rpm

Max. RCF

21380 x g, increment: 10 x g

Speed Accuracy

±20 rpm

Rotor Capacity

5ml x 18
0.2ml/0.5ml/1.5ml/ 2ml x 24
0.5ml x 36
PCR8 x 4

Run Time

30 sec~99 min-HOLD (Continuous operation)

Driving Motor

Brushless DC motor

Safety Devices

Dual door interlock, Over-speed detection; Over-temperature detection; Automatic internal diagnosis

Power

Single-phase, AC220V-240V, 50Hz/60Hz, 5A;
AC110V-120V, 50Hz/60Hz, 8A

Noise level

≤58 dB

Acceleration/Braking time

25s / 25s

Dimensions

280×364×266 mm

Weight

12 Kg

Additional Features

Speed/Acceleration switch
Short-time run function
sound-alert function
| | |
| --- | --- |
| P/N | Descriptions |
| A18-5 | Aluminum alloy rotor kit with lid, fixing clips and O'ring, 15000rpm, 5ml x 18, used with D3024 & D3024R |
| AS24-2 | Aluminum alloy rotor kit with lid, fixing clips and O'ring, 15000rpm, 2ml/1.5ml x 24, used with D3024 & D3024R |
| AS36-05 | Aluminum alloy rotor kit with lid, fixing clips and O'ring, 15000rpm, 0.5ml x 36, used with D3024 & D3024R |
| AS4-PCR8 | Aluminum alloy rotor kit with lid, fixing clips and O'ring, 15000rpm, 4 x PCR8, used with D3024 & D3024R |
| A02P2 | 2ml to 0.2ml rotor adapter, used with A12-2, A12-2P, AS24-2 and A24-2P rotors, 24pcs/pk |
| A05P2 | 2ml to 0.5ml rotor adapter, used with A12-2, A12-2P, AS24-2 and A24-2P rotors, 24pcs/pk |
| A02P05 | 0.5ml to 0.2ml rotor adapter, used with AS36-05 rotor, 36pcs/pk |