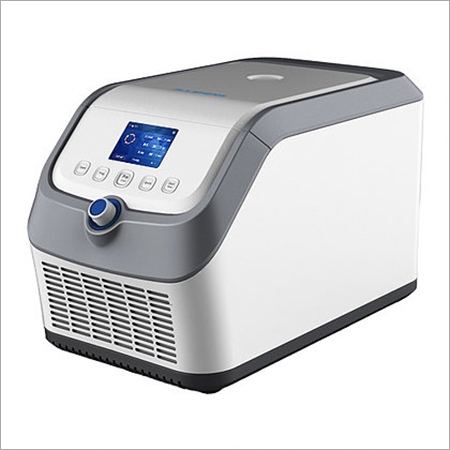 Product Description
iCEN-24R high speed centrifuges are available with 24-place capacity rotors. These newly configured products are applicative for the laboratory centrifuge. The speed of up to 15,000rpm(21,400—g) permits for molecular biology usages in 0.2ml,0.5ml,1.5/2.0ml and PCR tubes. Both have the soft-brake purpose to give protection to sensitive samples.
Refrigerated Centrifuges iCEN-24R present the state of the cooling utility to insure energy efficiency as well as advanced temperature quality for supreme sample protection.
Maximum rotor capacity: 24—1.5/2.0ml vessels.
Maximal speed: 15,000rpm(21,400—g).
Soft-brake utility to protect sensitive samplings.
LCD display with RCF, time and speed.
Detached short-spin key for speedy centrifugation.
Automated lid opening at the ending of the run - regresses sample heating and accepts simple accession to samples (only for iCEN-24).
Autoclavable rotor, 3 assorted rotors
Easy to use with user friendly features.
Temperature extent from -10~40°C.
Warranted temperature of +4 at Max. rate.
Fast Temp utility for speedy pre-cooling of the centrifuge.
Technical Specifications :-

| | |
| --- | --- |
| Model | iCEN-24R |
| Max. Capacity | 24—1.5/2.0ml tube rotor |
| Speed | 500rpm~15,000rpm(100rpm steps) |
| Maximum RCF | 21,400—g |
| Rotors available | 3 |
| Acceleration time | 15s |
| Deceleration time | 15s |
| Timer | 1s to 99min59s |
| SOFT brake function | yes(45s) |
| Noise level | 64dB |
| Max.Power | 500W |
| Dimensions(W×D×H) | 300mm—500mm—320 mm |
| weight with one rotor | 28 Kg |
| Cooling | Refrigerated |
| Temperature range | -10 to +40°C |
| | |
| --- | --- |
| Rotor Code | Code Description |
| 08121-01 | 24x1.5/2.0ml rotor |
| 08121-02 | 4~8x0.2ml PCR strip rotor |
| 08121-03 | 12x5ml rotor |
| 08041-01 | Adapters for 0.5~0.6ml tubes |
| 08041-02 | Adapters for 0.2ml tubes |