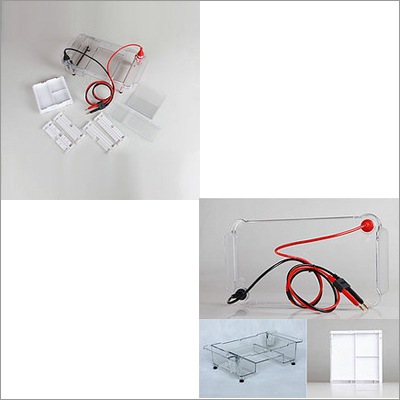 Product Description
We are one of the most outstanding enterprises in the domain, engaged in providing the best in class Horizontal Gel Electrophoresis equipment. It is manufactured under the stern surveillance of adroit professionals with the aid of sophisticated techniques at well-equipped premises. It is ideal for genetic fingerprinting, DNA restriction mapping, genomic DNA separation and various other research applications. Additionally, this Horizontal Gel Electrophoresis equipment can be purchased from us at reasonable prices.
Key points :-
Ensures precise analysis of macromolecules
Perfect for correct estimation of size of DNA molecules
Convenient to use
High durability
HE120 Multifunctional Horizontal Gel Electrophoresis Cell include many features that make casting and running agarose gels simple and efficient.
The Mini All-purpose Gel Caster eliminate the need for gel sealing tape during gel casting.
Multiple size gel trays (6×6 cm,6×12 cm,12×6 cm,12×12 cm) supple the choice of user and retrench the dosage of agarose.
Gels can be cast while the electrophoresis unit is being used or multiple gels can be cast in advance.
Multiple combs increase the numbers of samples that analyzed per gel.
Removable gel trays allow easy manipulation of the gel throughout processing.
Safety interlock lids prevent an electrical connection from being made until the lid is properly in place.
Gel size (W×L)

6×6 cm / 6×12 cm / 12×6 cm / 12×12 cm

Comb

1.0mm (25 teeth / 11 teeth) / 1.5mm (18 teeth / 8 teeth) / 1.5mm (13 teeth / 6 teeth) / 2.0mm (3 teeth / 2 teeth)

Maximum Voltage

500V

Typical buffer volume

1000 ml

Typical run times for agarose

45 minutes

Comb

1.0 mm 25 teeth, Maximum Sample volume: 15ul
1.5 mm 18 teeth, Maximum Sample volume: 25ul
1.5 mm 13 teeth, Maximum Sample volume: 50ul
2.0 mm 3 teeth, Maximum Sample volume: 80ul (Marker) / 200ul / 300ul / 550ul