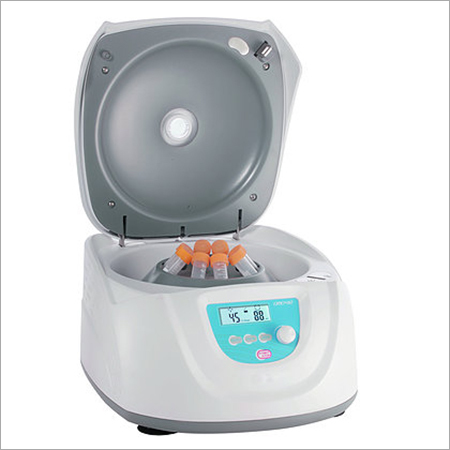 Product Description
Clinical Centrifuge DM0412 are practical centrifuges that work for small sample volumes. The centrifuge is provisioned with the angle rotor, which can support 15ml x 8 or 10ml/7ml/5ml x 12 vacuum tubes.
Features :-

High accuracy of pace, superior performance.
CPU controls provided for all operating parameters including speed as well as time.
G-force or RPM can be set and exhibited.
Work can be timed from 30 seconds to 99 minutes or constant running.
Timer begins once the set speed is orbited, so the separation time period is more accurate.
Gentle braking at reduced speeds with cost-effective separation.
Constants can be qualified after the set speed is ranged.
Quick rotations are doable by pressing and keeping PULSE key.
Automatic release of the lid can occur when procedure has ended to save processing time.
Simple-to-read back-lit LCD processing exhibit as well as sound alert.
Can be pulse expedited and held at speed.
Advanced strength plastic rotor and superior balance technology for noiseless and stable operation.
Brush-less motor drive quickly and easily speeds the rotor to fixed speed.
2 year warranty.
Technical Specifications :-

Max. Speed

300~4500 rpm, increment: 100 rpm

Max. RCF

2490 × g, increment: 100 × g

Speed Accuracy

±20 rpm

Rotor Capacity

12×10ml/7ml/5ml;
8×15ml

Run Time

30sec~99 min-HOLD (Continuous operation)

Driving Motor

Brushless DC motor

Safety Devices

Door interlock, Over-speed detector
Over-temperature detector
Automatic internal diagnosis

Power

Single-phase, 110V-240V, 50Hz/60Hz, 3A

Noise level

≤56 dB

Acceleration/Braking time

20s / 20s

Dimensions

255×245×140 mm

Weight

6 Kg

Additional Features

Speed/Acceleration switch
Short-time run function
Sound-alert function
| | |
| --- | --- |
| P/N | Descriptions |
| A12-10P | Plastic rotor, 4500rpm, 15ml x 8, used with DM0412 |
| A10P15 | Rotor adapter, used with A12-10P, 12pcs/pk |
| A10P15 plug | Rotor adapter plug, used with A10P15, 12pcs/pk |