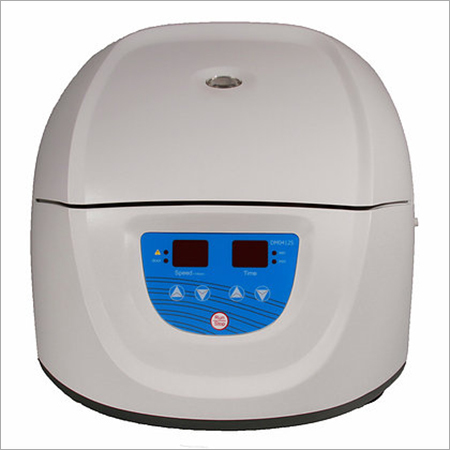 Product Description
Features :-

DM0412S Clinical Centrifuge adapts to global safety standards and ordinances.
300-4500 rpm, Max. RCF 2490 x g
Includes Rotor: 8 x 15ml / 12 x 10ml/7ml/5ml

Adapters for different sized tubes LED display

Advanced quality of speed, superior performance.
RPM can be displayed and set.
Procedure can be timed from 1 seconds to 99 minutes or uninterrupted running.
Timer start out once the set rate is limited, so the modification timing is more accurate.
Gentle braking at reduced speeds with expeditious separation.
Parameters can be adapted after the fixed speed is ranged.
Quick spins are manageable by holding and pressing PULSE key.
Automated release the lid when work has stopped to save processing period of time.
Simple-to-read LED display and good alert.
Advanced strength plastic rotor and superior balance technology for quiet and lasting operation.
DC motor drive rapidly and effortlessly speed up the rotor to set speed.
Hand-operated door release.
2 year warranty.
Technical Specifications :-

Max. Speed

4500 rpm, increment: 100 rpm

Max. RCF

2490 × g, increment: 100 × g

Speed Accuracy

-

Rotor Capacity

12×10ml/7ml/5ml;
8×15ml

Run Time

1sec - 99min, HOLD (Continuous operation)

Driving Motor

DC motor

Safety Devices

Door interlock, Over-speed detector

Power

Single-phase, 110V-120V, 50Hz/60Hz, 3A
220V-240V, 50Hz/60Hz, 3A

Noise level

≤56 dB

Acceleration/Braking time

40s / 50s

Dimensions

255×245×140 mm

Weight

6 Kg

Additional Features

sound-alert function
| | |
| --- | --- |
| P/N | Descriptions |
| A12-10P | Plastic rotor, 4500rpm, 15ml x 8, used with DM0412 |
| A10P15 | Rotor adapter, used with A12-10P, 12pcs/pk |
| A10P15 plug | Rotor adapter plug, used with A10P15, 12pcs/pk |