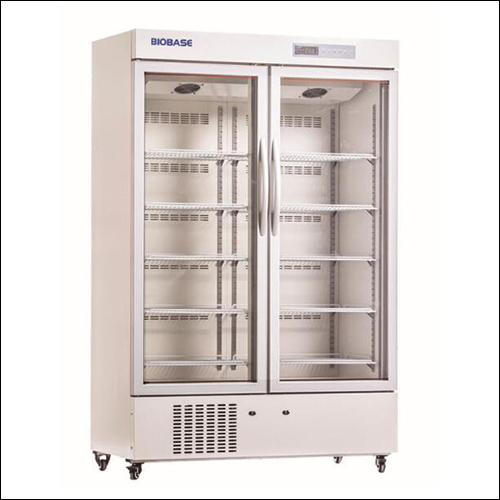 Medical Refrigerator-Double Door
Product Code : 234
1800.00 - 2300.00 USD ($)
Price And Quantity
Minimum Order Quantity

:

1
Unit of Measure

:

Unit/Units
Price Range

:

1800.00 - 2300.00 USD ($)
Product Description
Medical Refrigerator is specialized refrigerating equipment for cold storage of pharmaceuticals as well as biological products and so forth. It is suitable for hospital, drugstore, pharmaceutical factories, sanitation and anti-epidemic station and clinics.
We have picked up skill in making a broad exhibit of Medical Refrigerators double door. Propelled advancement and most recent tools are utilized in the making procedure adhering to the norms of the business. Plus, we ensure that the committals are opportune delivered at clients' ends utilizing simple shipment modes.

Features :-

Rust proof body
Superior execution
Low support

Therapeutic Refrigerator is specific refrigerating instrument for cool storage of biological, pharmaceuticals items and so on. It is appropriate for drugstore, sanitation, clinics, hospitals, pharmaceutical factories and anti-epidemic station.
Model

BXC-V650B

BXC-V1000B

Capacity

650L

1000L

Temp. Range

4 ±1℃

Temp. Accuracy

0.1℃

Control System

Microprocessor control

Display

Large screen LED display

Alarm

Audio and visual alarm for:
High or low temperature, Sensor failure, System failure;
Door ajar, Power failure, Low battery

Refrigeration Type

Forced air refrigeration system

Refrigerant

R134a, CFC-Free

Defrost

Auto defrost

Construction

Unibody Design, Mono-assembly foaming (Rigid polyurethane insulation material)

Internal Material

Stainless steel

External Material

Cold-rolled steel with anti-bacteria powder coating

Door

Three-ply transparent glass door with lock, Heating film preventing frosting, Sealing joint strip with magnetic force

Drawers/Shelves

Adjustable shelves

SS drawers

Casters

4 casters

Consumption

364W

600W

Power Supply

AC220V±10%, 50/60Hz

External Size (WxDxH) mm

1220x648x1885

1220x878x1885

Package Size (WxDxH) mm

1300x730x2080

1300x960x2080

Gross Weight

195kg

286kg

Standard Accessory

Temperature printer, 12 shelves, 36 baskets, fluorescent lamp

Temperature printer, 12 drawers, fluorescent lamp

Blood Bags (450ml)

360 pcs

576 pcs
Model

BXC-V650M

BXC-V1000M

BXC-V1500M

External Size(W*D*H) mm

1220*642*1885

795*1225*1980

1800*750*1965

Capacity

650L

1000L

1500L

Temp. Range

2℃~8℃

Temp. Accuracy

0.1℃

Control System

Microprocessor Control & Large Screen LED Display

Alarm

Audible and visual alarm for: High and low temperature,

System & sensor failure,Door ajar, Power failure alarm

Refrigeration Type

Forced air refrigeration system

Refrigerant

R134a, CFC Free

Condenser&Evaporator

High efficiency air-cooled condenser, made of copper

Defrost

Auto defrost

Construction

Structure

Unibody design & mono-assembly foaming (Rigid polyurethane insulation material)

Internal material

Cold-rolled steel coated with anti-bacteria powder

SS304

External material

Cold-rolled steel coated with anti-bacteria powder

SS304

Shelf

Adjustable shelves made of high quality steel wire

10pcs

12pcs

12pcs

Consumption

443W

510W

650W

Power Supply

AC220V±10%, 50/60Hz

Standard accessory

695*1290*1940

820*1285*2020

1940*880*2035

Package size(W*D*H)(mm)

188

245

190

Gross weight(kg)

695*1290*1940

820*1285*2020

1940*880*2035