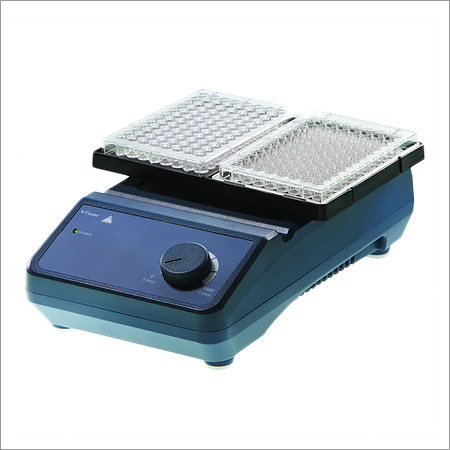 Microplate Shaker
Product Code : MX-M
Product Description
Microplate Shaker MX-M Features :-


1. MX-M Microplate Mixer is ideal for mixing/shaking 96 well microplates
2. A wide range of speed from 0 to 1500 rpm, Used for various mixing applications with optional adapters, Maintenance-free brushless DC motor.
3. Capable of holding single or double microplates, the compact shape of MX-M Microplate Mixer takes less bench space and makes storage easier.

4. Long life quiet brushless motor.
5. Accessories available for tube shaking.
Applications :-
It is widely used in life sciences including microbiology, cell and molecular biology, immunology and biotechnology.
Technical Specifications :-
Model

MX-M

Shaking action

Orbital

Orbital diameter

4.5mm

Speed range

single microplate: 0~1500 rpm
double microplate: 0~1000 rpm

Motor rating input

18W

Motor rating output

10W

Power

20W

Overall dimensions

260×150×80 mm

Weight

3 Kg

Electrical supply

100~240V, 50/60Hz, 30W

Operating temperature range

5~40°C

Maximum humidity

80%

Protection class acc. DIN EN60529

IP21