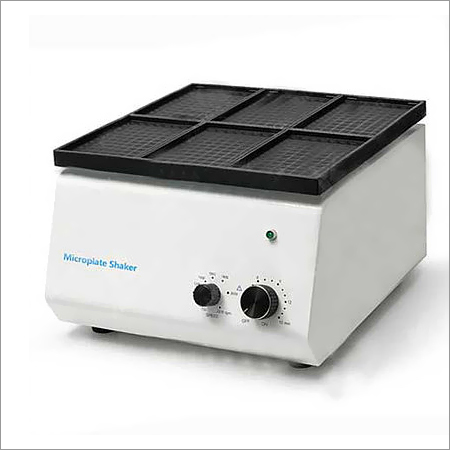 Microplates Thermo Shaker
Product Code : 206C
Product Description
This Microplates Thermo Shaker has excellent temperature uniformity across the platform. Combined with variable speed and variable temperature, it is ideal thermoshaker for microplate incubations. The offered thermo shaker can be used with all types of standard depth microplates and offers maximum versatility and efficiency of a microplate thermoshaker, a compact benchtop incubator without shaking and a microplate shaker. Easy to operate, with simple set-up of temperature, this Microplates Thermo Shaker is integrated with adjustable speed and time via push buttons and the LCD status display.
Features:
LCD display
Simple to set up
Long working life
Microplate Thermo Shaker(Microplate Mixer 206C) Brief Introduction :-
206C Microplate Mixer can mixing/shaking 6 pcs 96 well microplates at one time
A wide range of speed from 200 to 2800 rpm ,Adjustable knob design
Low noise AC motor to make rapid and thorough mixing.
Key Points :-
Elastic silicon plate, easy to clean and wear-resisting. It can fit various kinds of cell plates. 6pcs of cell culture plates can be mixed at one time.
High performance & low noise AC motor to make rapid and thorough mixing.
Adjustable knob design can ensure staples speed adjustment, and constant run within 15 min.
Technical Specifications :-
Operation method

Circling

Speed range

200~2800 r/min

Timing range

0~15 min

Operate mode

Timing/Continuous

Circling diameter

9mm

Power rating

10W

Voltage

AC 220V±10% 50/60Hz

Max. loading

6 pcs microplate

Working platform size

(6 plates:278×270mm
(1 plate): 128×86mm

Dimensions

310×280×225 mm

Net. Weight

6.2 Kg