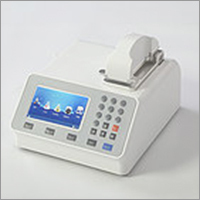 Product Description
Our
micro spectrophotometer
(Nano-200) is compact in structure and is based on latest image sensor technology. Its optical system is innovative and efficient, ensuring its good performance and small size. The common use of this equipment is in the laboratories of forensic, physics, microbiology and medical. Two main selection parameters of this product are spectral response range and spectral resolution. Absorbance precision / accuracy and range are couple of other important selection factors.
Micro spectrophotometer
is provided in hermetic packaging that safeguards it against the effects of humidity. This equipment uses Xenon flash lamp as the light source and a Photodiode detector.
Key Points of Micro Spectrophotometer :-
Very useful, especially when a laser source and potential spectroscopy are added, its uses become almost unlimited
Compact design and easy to transport
High performance and very long functional life
Common applications are CFL and LED performance measurements; Color Calibration and matching; Diamond/Gemstones verification; Fluorescence spectroscopy etc.
Model

Nano-200

Wavelength Range

230nm, 260nm, 280nm

Minimum Sample Size

0.5~2.0ul

Path Length

0.2mm (For high concentration measwrement)
1.0mm (For ordinary)

Light Source

Xenon flash lamp

Detector Type

Photodiode

Wavelength Accuracy

----

Spectral Resolution

----

Absorbance Precision

0.002 Abs

Absorbance Accuracy

1% (7.332Abs at 260 nm)

Absorbance Range

0.02 -80A (10 mm equivalent)

Detects Nucleic Acid up to

10~4000 ng/ul (dsDNA)

Measurement Time

<10s

Dimensions (W x D x H)

210x268x181 mm

Weight

2.8kg

Sample Pedestal Material

Aluminum alloy and Quartz fiber

Operating Voltage

24V DC

Operating Power Consumption

20W

Standby Power Consumption

5W

Software Compatibility

Win CE