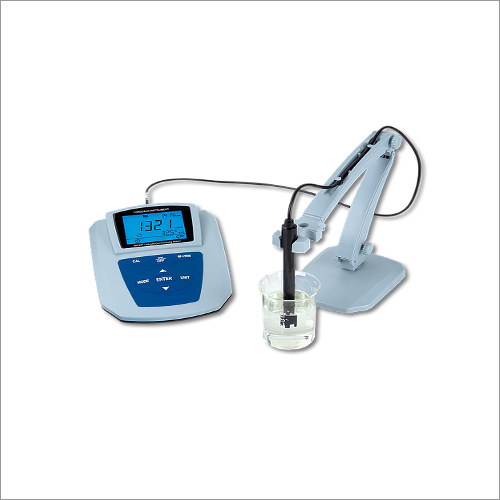 PH - Conductivity Meter
Product Code : MP521
380.00 - 580.00 USD ($)
Price And Quantity
Minimum Order Quantity

:

1
Unit of Measure

:

Set/Sets
Price Range

:

380.00 - 580.00 USD ($)
Product Description
Gearing all our efforts towards offering quality proven products to both domestic and global buyers, we are dealing in supreme quality PH-Conductivity Meter. The designs of these test instruments are robust and are embedded with quality proven electrical components. Manufactured to precision by our team of reliable vendors and manufacturing partners, these instruments with their world class deigns and innovative features are widely employed in chemistry laboratories, research centers and allied areas for accurate measurement of pH conductivity of different types of liquids and chemical solutions. These instruments can accurately test PH value of both moderate ionic strength aqueous solution as well as conductivity values of conventional solution. Today, the wide spectrum PH-Conductivity Meter we offer can also be purchased in customized specifications at highly discounted rates.
Key points :-
Easy and smooth operations
Long functional life
Power efficient
Easy to maintain
PH/Conductivity Meter MP521
Features :-
MP521, pH and Conductivity Double-Parameter measurement meter which is suitable for general measurement in laboratory. It is suitable for measuring the pH value of moderate ionic strength aqueous solution, and conductivity values of conventional solution.
Technical Specifications :-
Ph Measuring range

(-1.99 ~ 19.99)pH

pH Resolution

0.1/0.01/0.001 pH

pH Accuracy

Meter:±0.01pH, connect meter with electrode:±0.01pH

pH Input current

≤1×10-12 A

pH Input impendence

≥3×1012Ω

pH Stability

±0.01 pH/3h

pH Temp. compensation range

(0 to 100) °C(automatic or manual)

mV Measuring range(mV/ORP/EH)

-1999.9mV ~ 1999.9mV

mV Resolution

0.1mV

mV Accuracy

±0.03% FS

Conductivity Measuring range

Conductivity: (0.00~20.00)µS/cm (20.0~200.0)µS/cm (200~2000)µS/cm

(2.00~20.00)mS/cm (20.0~200.0)mS/cm

Resistivity: (0~100)MΩ·cm

TDS: (0~100)g/L, Salinity: (0~100)ppt

Conductivity Resolution

0.01/0.1/1µS/cm 0.01/0.1/1 mS/cm

Conductivity Accuracy

Meter:±1.0% FS,connect meter with electrode:±1.5% FS

Conductivity Temp. compensation range

(0 ~ 50)°C (automatic)

Conductivity Electrode constant

0.1 / 0.5 / 1 / 5 / 10 / 50 / 100 cm-1

Conductivity Reference temperature

25°C, 20°C and 18°C

Temp. Measuring range

-10°C~ 110°C

Temp. Resolution

0.1°C

Temp. Accuracy

5~ 60°Crange: ±0.4°C other range: ±0.8°C

Data storage

300 groups

Storage content

Measuring value series number, measuring value, temperature, ATC or MTC state, measuring date and time

Power

DC9V/300mA

Communication connector

RS232

Size and weight

160 × 190 × 70mm/880g

Quality and safety certification

ISO9001:2008, CE and CMC

Environment temperature

5 ~ 35 °C(0.01grade) 15 ~ 30 °C(0.001grade)

Environmental humidity

≤75%



Standard Kit :-
| | |
| --- | --- |
| 1. Model MP521 Lab pH/Conductivity meter | 1set |
| 2. Model 602 flexible electrode holder | 1pc |
| 3. 201T-M plastic pH/ATC three-in-one combination electrode | 1pc |
| 4. 2301-M plastic conductivity electrode | 1pc |
| 5. pH standard buffer solution (pH4.00, pH7.00 and pH10.01/50mL) | 1btl/each |
| 6. 1413μS/cm conductivity standard solution (50mL) | 2btls |
| 7. 9V power adapter (meter use) | 1pc |
| 8. RS-232 communication cable | 1pc |
| 9. MP521 communication software disk | 1pc |
| 10. Operation manual | 1unit |
| 11. Brief operation instruction | 1unit |
| 12. Packing List | 1pc |