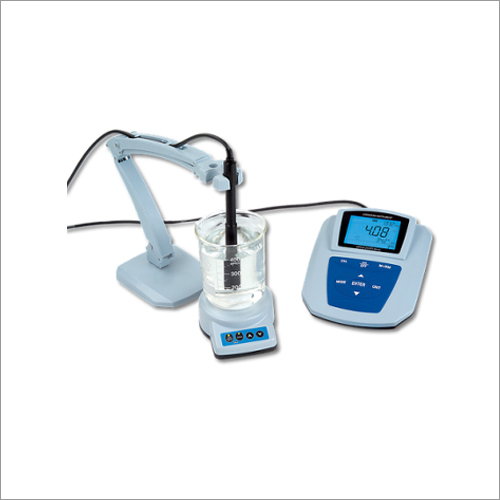 PH - DO Meter
Product Code : MP525
250.00 - 450.00 USD ($)
Price And Quantity
Minimum Order Quantity

:

1
Unit of Measure

:

Set/Sets
Price Range

:

250.00 - 450.00 USD ($)
Product Description
Discover how we make measurement and PH analysis an extremely easy process! We as an exporter and trader help you choose the right product like PH-DO Meter from our wide range of industrial products. Fabricated with high precision by our vendors, these instruments strictly align with international quality standards and feature robust and reliable designs. Use of excellent quality raw components and parts in their manufacturing also lends them special attributes like result accuracy, flawless finish and long service life. With our line of PH-DO Meter made available for clients at marginal rates, the pH value as well as the exact amount of dissolved oxygen in different types of liquids can be easily gauged. Today, our range can be applied for use in commercial labs, research centers and industry premises.
Key points :-
User-friendly interface
Clear digital display
Known for result accuracy
Robust construction
pH/DO Meter MP525 Features :-
MP525 pH/DO Meter, for laboratory precision pH dissolved oxygen measurement. Suitable for biotechnology, aquaculture, power plants and environmental protection industries in the field of education and research more widely used.
Technical Specifications :-


| | |
| --- | --- |
| pH Measuring range | (-1.999 ~ 19.999)pH |
| pH Resolution | 0.1/0.01/0.001 pH |
| pH Accuracy | Meter:±0.002 pH, connect meter with electrode:±0.01pH |
| pH Input current | ≤1×10-12 A |
| pH Input impendance | ≥3×1012 Ω |
| pH Stability | ±0.002 pH/3h |
| pH Temp. compensation range | (0 to 100) °C (automatic or manual) |
| mV Measuring range(mV/ORP/EH) | -1999.9mV ~ 1999.9mV |
| mV Resolution | 0.1mV |
| mV Accuracy | ±0.03% FS |
| DO Measuring range | (0 ~ 40.00)mg/L(ppm) (0 ~ 200.0)% |
| DO Resolution | 0.1/0.01 mg/L(ppm) 1/0.1 % |
| DO Accuracy | Meter: ±0.10 mg/L, connect meter with electrode: ±0.40 mg/L |
| DO Response time | ≤30 s(25°C, 90% response) |
| DO Residual current | ≤0.1 mg/L |
| DO Temp. compensation range | (0 ~ 45)°C (automatic) |
| DO Salinity compensation range | (0 ~ 45)ppt (automatic) |
| DO Air pressure compensation | (80 ~ 105)kPa (automatic) |
| DO Automatic calibration | Air saturated by water; water saturated by air |
| DO Electrode type | Polarogram type |
| Temp. Measuring range | -10°C~ 110°C |
| Temp. Resolution | 0.1°C |
| Temp. Accuracy | 5~ 60°Crange: ±0.4°C other range: ±0.8°C |
| Data storage | 300 groups |
| Storage content | Measuring value series number, measuring value, temperature, ATC or MTC state, measuring date and time |
| Power | DC9V/300mA |
| Communication connector | RS232 |
| Size and weight | 160 × 190 × 70mm/880g |
| Quality and safety certification | ISO9001:2008, CE and CMC |
| Environment temperature | 5 ~ 35 °C(0.01grade) 15 ~ 30 °C(0.001grade) |
| Environmental humidity | ≤75% |
Standard Kit :-


| | |
| --- | --- |
| 1. Model MP525 pH/ DO meter | 1set |
| 2. Model 602 flexible electrode holder | 1pc |
| 3. Model 901 intelligent stirrer | 1set |
| 4. 201T-M plastic pH/ATC three-in-one combination electrode | 1pc |
| 5.2503-C glass pH combination electrode | 1pc |
| 6. MP500 temperature electrode | 1pc |
| 7. DO500 DO electrode | 1pc |
| 8. pH standard buffer solution (pH4.00, pH7.00 and pH10.01/50mL) | 1btl/each |
| 9. 9V power adapter (meter use) | 1pc |
| 10. 6V power adapter (stirrer use) | 1pc |
| 11. DO503 membrane cap (DO electrode use) | 3pc |
| 12. DO502 DO electrode inner solution(30mL) | 1btl |
| 13. Cathode polishing paper | 2pc |
| 14. B628 stirring bead | 3pc |
| 15.AA battery | 2pc |
| 16. RS-232 communication cable | 1pc |
| 17. MP525 communication software disk | 1pc |
| 18. Operation manual | 1unit |
| 19. Brief operation instruction | 1unit |
| 20. Packing List | 1pc |