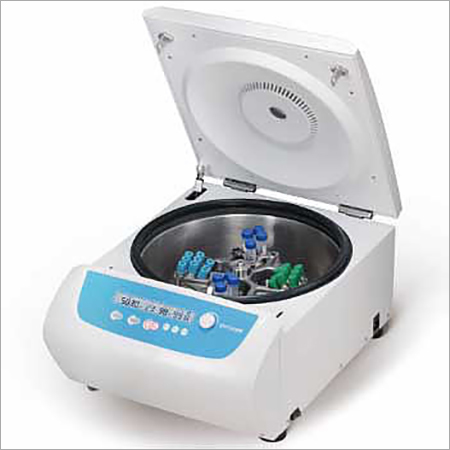 Product Description
The Refrigerated Clinical Centrifuge DM0636R, adapters and swing-out rotors are utilized for standardized tubes up to 100 ml at low-level speed. Additionally, these centrifuges can be utilized for tubes with the screw caps, urine tubes and blood collection tubes. The products come with powerful cooling system, -20~40°C, for punctilious temperature control of both samples and chamber.
Features :-

Speed can be fixed from 300 rpm to a max. of 6000 rpm.
Maximal capacity of the centrifuge: 100 mlx 4.
9 Acceleration &10 Brake speed settings are provided to insure best separation.
Efficient cooling system for accurate temperature control of chamber as well as samples.
The wide range of ancillaries (fixed angle as well as swing-out bucket rotors).
Automated rotor identification.
Timekeepers can be set up to 99 min. for shortened run/continuous run.
9 processes stocked in memory make the procedure much simplified.
Repair-free brush-less DC motors.
Technical Specifications :-

| | |
| --- | --- |
| Speed Range | 300~6000rpm |
| Max. RCF | 4300 × g |
| Speed Accuracy | ±20 rpm |
| Temperature Range | -20~40 °C |
| Rotor Capacity | 9 types |
| Run Time | 30sec~99mins /continuous |
| Driving Motor | Brushless DC |
| Display | LCD |
| Program memory | 9 |
| Safety Devices | Door interlock, Imbalance protection, motor over hot protection, Over speed detection, chamber over temperature detection |
| Acceleration/Braking time | 9s↑/10↓ |
| Power | Single-phase AC220V-240V, 50Hz/60Hz, 12.5A; AC110V-120V, 50Hz/60Hz,15A |
| Dimensions [D × W × H] | 630×580×270 mm |
| Weight | 50 Kg |
| Additional Features | Speed/RCF switch; Rotor identification |
P/N

Descriptions

S4-100

Max. speed: 4000 rpm
Max. RCF: 2830 × g
Rotor capacity:100ml × 4
Rotor material: stainless steel body and tubes

30-15

Max. speed : 5000rpm
Max. RCF: 3300 × g
Rotor capacity: 15ml × 30
Rotor material: aluminum body and stainless steel tubes

AS8-50V

Max. speed: 6000rpm
Max. RCF: 4610 × g
Rotor capacity: 50ml × 8
Rotor material: aluminum
Bio-safe (Bio sealing): YES