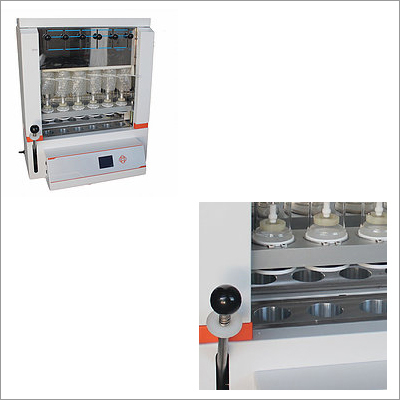 Soxhlet Fat Analyzer
Product Description
Soxhlet Fat Analyzer we offer are ideal tools suitiable for testing and inspecting items in the field of food processing, chemical and research. We diligently work towards offering premium quality analyzers that are in harmony with international norms. The line of high performance Soxhlet Fat Analyzer we trade in comes with a Blue LCD display that exhibits the temperature in 6 stages (actual & set), holding time countdown, etc. The smart design of the product allows for closed electric heating and automatic collection of solvent and storage. The drying function of the product is relatively simple as it doesn't demand oven use during drying and can be operated with ease without any specialized technical knowledge.
Key points :-
High performance
Based on advanced mechanism
Longer service life
Easy to maintain
Features :-
Closed electric heating, room temperature ~ 280°C any adjustment.
Blue LCD display, displays set and actual temperature, holding time countdown and remind.
Automatic collect of solvent and storage.
No plug design: no leaks and improve the life.
limit temperature protection.
Intelligent: 6 stages can be set to the temperature and holding time, it will accord sequence running automatically.
Drying function: no need to use oven, directly in machine.
Specifications :-

| | |
| --- | --- |
| Model | SOX400 |
| Measure Range | Crude fat content ≥ 0.5% |
| Measure quantity | 6 samples at same time |
| Solvent reclaim rate | ≥ 80% |
| Precision | Relative difference ≤ 3%, Parallel difference ≤ 0.3% |
| Solvent collection methods | automatically collect and store |
| Reclaim rate | ≥ 99% (backflow Speed 120 drop/minute, Cooling water temperature ≤ 30°C) |
| Heating | Aluminum Alloy plate, electric heating |
| Seals | PTFE seal |
| Display | blue screen LCD; holding time countdown |
| Other features | 6 stages of heating, drying |
| Temperature control range | Rt.~280°C |
| Temperature control precision | ±0.3°C |
| Power Supply | 220V±10%, 50~60HZ |
| Rated power | 500W |
| Dimensions | 560×370×685 mm |
| Weight | 32 Kg |
| | |
| --- | --- |
| Model | SOX500 |
| Temperature range | Rt. +5~300 °C |
| Measuring range | 0.1~100% |
| Temperature accuracy | ±1°C |
| Reproducibility | Relative error 1% |
| Sample weight | 0.5~15 g |
| Capacity per batch | 6pcs/batch |
| Solvent cup volume | 150ml |
| Solvent recovery | ≧85% |
| Power supply | 220VAC±10%, 50Hz |
| Power | 2.6 KW |
| Dimensions | 650×348×875 mm |
| Net Weight | 61 Kg |