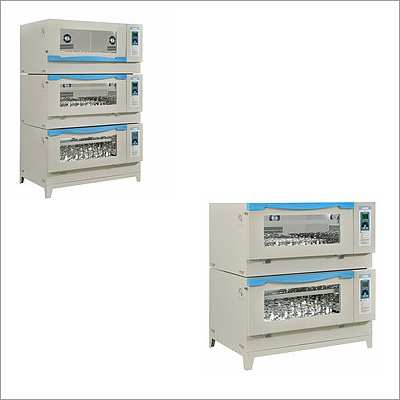 Product Description
Being a noteworthy firm in this domain, we are able to provide the best quality collection of Stackable Incubator Shaker. This shaker is widely used for cell aeration and cell culturing in laboratories. The offered shaker is manufactured using quality-assured components and cutting-edge technology under the prudent observation of ingenious technocrats. Moreover, our precious clients can avail this Stackable Incubator Shaker from us at economical rates within prescribed delivery time.
As a progressive exporter and trader, we introduce clients to leading-edge technology via a world class range of Stackable Incubator Shaker. Employed mainly for cell aeration and cell culturing in laboratories, these shakers are widely demanded for their smart combination of quality assured parts and design components. The Stackable Incubator Shaker we offer are engineered under observation of our ingenious vendors and can be made to order at economical rates. The robust designs of the equipment also feature Large LCD displays where pre-set and actual working parameters are displayed for user convenience. All products you order from this site can be readily delivered within the prescribed time.

Features :-

Robust construction
Less maintenance
Easy to operate
Longer service life
PID microcomputer scanning controller multi-function incubator shaker.
Ergonomic design with tempered glass window.
Large LCD displays pre-set and actual working parameters.
Password access prevents unauthorized alteration of pre-set parameters.
Storage of speed, startup after power again, recording of parameters, temperature and speed calibration, clock display and display of room temperature and actual temperature.
Auto stop when door is opened.
Auto recovery when power is re-stored.
Maintenance-free brushless motor for long life operation.
Soft start to prevent splashing of samples.
Timer 0-500 hours.
Illuminating lights or UV light are inside for use.
High/ Low temperature alarm.
Forced air convection.
Technical Specifications :-
Model

SIS-2012

SIS-2012R

Control mode

PID (Microcomputer scans the micro-processing chip)

√

Display mode

LCD (Double display of liquid crystal screen)

√

Circulation mode

Forced convection

√

Shaking mode

Orbital

√

Drive mode

Balancing device with single shaft

√

Temperature range

Rt.+5°C-60°C

4°C-60°C

Accuracy of temperature

±0.1°C

√

Temperature uniformity

±0.5°C

√

Safety functions

Sound and light alarm for temperatures above or below the upper or lower limit; alarm for speeds above or below the upper or lower limit; separate over-temperature protector; shutdown protection for door opening; leakage or overcurrent protector.

√

Additional functions

Storage of speed, startup after power again, recording of parameters, temperature and speed calibration, clock display and display of room temperature and actual temperature.

√

Programming function

Programming of repetition, steps and eight curves settings

√

Rotary frequency

50~300rpm

√

Rotary accuracy

±1rpm

√

Shimmy amplitude

Dia. 25mm

√

Coolant

-

CFC-Free (134A)

Cooler

-

200W

Heater

-

800W

Timing range

0 – 500 hours/continuous

√

Size of shaking plate

850×560 mm

√

Maximum capacity

2000ml x 12, 1000ml x 20, 500ml x 35 or 250ml x 40

√

Net weight

150kg

180kg

Size of cavity

930x640x398 mm

√

Shape size

1360x845x980 mm (one set)
1360x845x1410 mm (two sets)
1360x845x2040 mm (Three sets)

√

Door opening model

Two bottom layers: Pull-down The top layer: Turn-up

√

Power

960W

1120W

Motor

120W Inverter motor

√

Power supply

AC 200~240V 50~60HZ

√

Material of cavity

Imported high-quality 304 stain less polished slab

√

Material of box

High-quality and high-tensile channel steel, angle steel and cold steel sheets

√