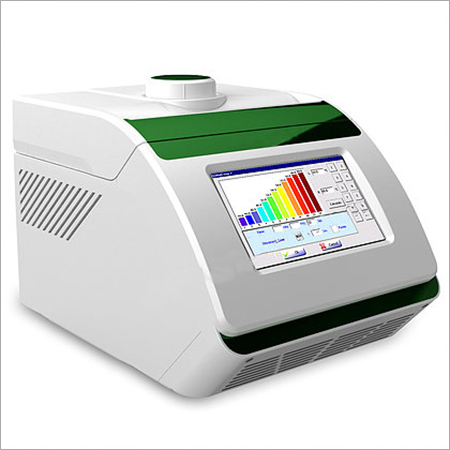 Product Description
We have cornered the entire global market by bringing forward an excellent assortment of Thermal Cycler for PCR A300. It is precisely manufactured under the stern surveillance of seasoned professionals using pristine class components with the aid of sophisticated techniques. Equipped with wide touch screen, it is popularly used for precise amplification of DNA segments during polymerase chain reactions. Also, this Thermal Cycler for PCR A300 can be purchased from us at market leading prices.
Key points :-
Allows bilingual usage
Compact and lightweight
Longer service life
Impeccable performance

Thermal Cycler for PCR A300
The whole product line of Thermal Cycler, from 16wells to 96wells, from STANDARD type to GRADIENT and Multi-purpose type, from Alphameric LCD to 7" Full Touch Screen.

All products adopt the most advanced PELTIER technology in the prevailing world, importing core parts with the result that its speed, analysis result and reliability of system are all second to none comparing to those imported.
Innovative Peltier-based Technology, more Steady, Reliable and Durable.
7"Color Full Touch Screen, Graphical Display of Protocols.
Effortlessly Interchangeable Reaction Modules that Swap in Seconds without Tools.
Large Storage of Programs.
Bilingual Interface (English and Chinese).
Technical Specifications :-

| | | |
| --- | --- | --- |
| Optional Module | Standard Module | Gradient Module |
| Optional Module | 96 Module: 96 wells × 0.2ml | 96 Module: 96 wells × 0.2ml |
|   | 9677 Module: 96 wells × 0.2ml + 77 wells × 0.5ml | 9677 Module: 96 wells × 0.2ml + 77 wells × 0.5ml |
|   | 48 Module: 48 wells × 0.2ml + 48 wells × 0.5ml | 48 Module: 48 wells × 0.2ml + 48 wells × 0.5ml |
|   | Multi-purpose: 9677 Module + In-situ Adapter | Multi-purpose: 9677 Module + In-situ Adapter |
| Display | 7" Color Touch Screen, graphical display of protocols and running status | √ |
| Communications | 2 USB2.0 and LAN | √ |
| Temperature |   |   |
| Block Temperature Range | 0~100 °C | √ |
| Max. Heating/Cooling Rate | 6 °C/s | √ |
| Temperature Uniformity | ≤ ±0.2 °C | √ |
| Temperature Accuracy | ≤ ±0.1 °C | √ |
| Display Resolution | 0.1 °C | √ |
| Mode of Temperature Control | Sim-tube & Block mode | √ |
| Gradient |   |   |
| Gradient Accuracy | / | ≤ ±0.1 °C |
| Column Uniformity | / | ≤ ±0.2 °C |
| Gradient Range | / | 30~99.9 °C |
| Temp. Differential Range | / | Max. 30 °C |
| Gradient Capability | / | 12 Column (Vertical) |
| Heated Lid |   |   |
| Height of Heated Lid | Steplessly Adjustable Lid, accommodates a wide range of PCR tubes and plates | √ |
| Open Method | Innovative "TOP-OPEN" technology realizes Two-in-One (Open/Lift) Lid | √ |
| Heated Lid Temperature Range | 30~112 °C | √ |
| Auto Shut-Off | Yes | √ |
| Software |   |   |
| Max. Number of programs | Max. 15,000 programs onboard, unlimited storage of protocols with USB flash drive | √ |
| Max. Step | 30 Steps, multiple nesting cycle available | √ |
| Max. Cycle | 100 typical cycles (duplex nesting 60,000 cycles) | √ |
| Time & Temp. Increment/ Decrement | Yes , available for Long PCR & Touchdown PCR | √ |
| Auto Pause / Auto Restart | Yes | √ |
| Multi-user log in | With password-based authentication, prevent from view, copy and alteration of protocols | √ |
| Tm calculator | Automatically calculates the melting and annealing temperature with two primer sequences | √ |
| Hold at 4 °C | Yes, an Infinite incubation time at low temperature for overnight working | √ |
| Program wizard | Yes, create PCR protocols with only a few clicks | √ |
| Running Report | Yes, provide precise data support for analyzing of experimental results | √ |
| PC Connection | PC remote control to manage more than 120 units of A300 across the network | √ |
| Other Features |   |   |
| Power | Universal AC input Switching Power Supply: 85V ~ 265V, 50-60Hz Max. 600W | √ |
| Dimension (L×W×H) | 362×256×255 mm | √ |
| Net Weight | 7.3 Kg | √ |