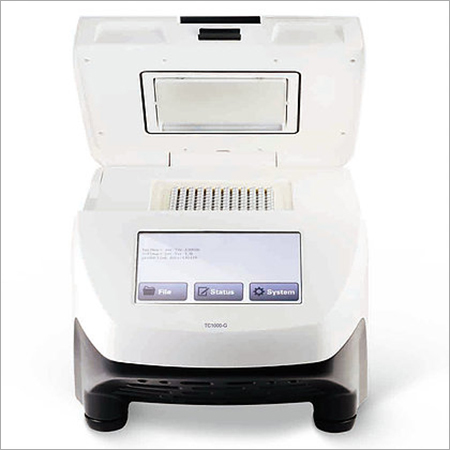 Product Description
For past 18 years, we have consistently been engrossed in putting forth a wide assortment of Thermal Cycler for PCR TC1000-S TC1000-G. This equipment is manufactured by a team of adept professionals using premium quality components in line with predefined industry norms. This equipment is utilized for carrying out sequencing, cloning, mutagenesis and other similar applications during polymerase chain reactions. This Thermal Cycler for PCR TC1000-S TC1000-G can be purchased from us at reasonable prices.
Key points :-
Allows easy regulation of temperature
Ensure precise determination

Optimizes time of reaction
Simple to use

Thermal Cycler for PCR TC1000-S TC1000-G
Thermal cyclers are essential laboratory equipment for researchers who run polymerase chain reaction (PCR) for sequencing, cloning, genotyping, mutagenesis, and many other applications. TC1000-G has the precise temperature control system and thermal gradient to easily optimize PCR assays in a single run, makes it possible to quickly and accurately obtain large quantities of DNA needed in molecular biology, clinical diagnosis, criminal investigations and infectious disease research etc.

Model TC1000-S (without gradient)
Model TC1000-G (with gradient)

Provides consistent and uniform sealing across an entire block.
Excellent temperature control system.
Fast heating and cooling rate.
Large color touch screen for easy programming.
Quickly and easily identify optimal annealing temperatures by using the programmable temperature gradient.
Thermal gradient feature - Identifies optimal annealing temperature in a single run.
Fast heating & cooling rate - Shortens the reaction time, reduces the nonspecific combine, get the target molecules with higher purity.
Excellent temperature, uniformity and accuracy - with excellent temperature control systems on both on normal PCR and gradient PCR models, critical for users to obtain successful experiment.
Intuitive software and large touch screen - makes programming faster and easier for operation.
Technical Specifications :-

| | | |
| --- | --- | --- |
| Model | TC1000-G | TC1000-S |
| Sample Capacity | 96X0.2ml PCR tube; 8X12 PCR plate or 96 well plate | 96×0.2ml PCR tube; 8×12 PCR plate or 96 well plate |
| Heating Temperature Range | 4-99°C | 4-99°C |
| Lid Temperature Range | 50-100°C | 50-100°C |
| Temperature Display Accuracy | 0.1°C | 0.1°C |
| Temperature Control Accuracy [@55°C] | ±0.3°C | ±0.3°C |
| Temperature uniformity[@ 55°C] | <0.3°C | <0.3°C |
| Max. Heating/Cooling Rate | 3°C/Sec | 3°C/Sec |
| Gradient Temperature Setting Range | 30-99°C | - |
| Gradient Range | 1-42°C | - |
| Adapter block material | aluminum | aluminum |
| Display | 7" 800x480mm LCD | 7" 800x480mm LCD |
| Input | Touch panel | Touch panel |
| User defined file system | 30 segments 99 cycle max. 16 folder and 16 files each folder max. | 30 segments 99 cycle max. 16 folder and 16 files each folder max. |
| Power off protection | yes | yes |
| Power Supply | 100-120V/200-240V,50/60Hz | 100-120V/200-240V,50/60Hz |
| Dimensions[W×D×H] | 280×370×250 mm | 280×370×250 mm |
| Weight | 11kg | 11kg |