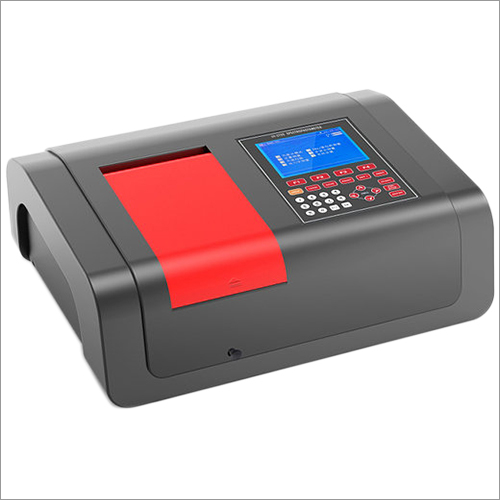 UV-VIS Spectrophotometer Double beam
Product Code : UVD-1800
Product Description
One of our popular products, UV-VIS Spectrophotometer (Double Beam) is made using latest technologies to ensure its avant-garde performance. Its primary purpose is to find the light-intensity under a spectrum. The UVD-1800 model has a bright LED display to display results. Further, its controls are interactive.
Key Points
Its optical system is double beam type

Wavelength range is wide, which is enough to fulfill all the demands of clients

For Pharmacopoeia related requirements, we offer/install 4 customized spectral bandwidths viz 4nm, 2nm, 1nm, 0.5nm
UV-VIS Spectrophotometer UVD-1800, double beam optical system with a wide wavelength range, the wavelength range to meet the various requirements of the field.
4nm, 2nm, 1nm, 0.5nm spectral bandwidth of four customized according to user requirements can be installed to meet the stringent requirements of the Pharmacopoeia.
| | |
| --- | --- |
| Model | UVD-1800 |
| Optical System | Double beam |
| Wavelength Range | 190~1100nm |
| Band Width | 2nm (0.5, 1, 4, 5nm optional) or 0.5, 1, 2, 4nm adjustable |
| Wavelength Accuracy | ±0.3nm |
| Wavelength Repeatability | ≤0.1nm |
| Photometric Accuracy | ±0.3% T(0-100%T) ±0.002A(0~0.5A) ±0.003A(0.5A~1A) |
| Photometric Repeatability | 0.15% T(0-100%T) ±0.001A(0~0.5A) ±0.0015A(0.5A~1A) |
| Stray Light | ≤0.03% T (220nm NaI, 340nm NaNO2) |
| Stability | 0.0005A/h@500nm |
| Noise | ± 0.0002A @500nm |
| Baseline Flatness | ± 0.001A |
| Photometric Mode | T, A, C, E |
| Wavelength Setting | Automatic |
| Photometric Display Range | -4~4A |
| Display Mode | 6 inches high brightness blue LCD |
| Detector | Import Silicon Photodiode |
| Light Source | Import Deuterium Lamp & Tungsten Halogen Lamp |
| Power Requirement | AC 220V/50Hz 110V/60Hz |
| Power | 120W |
| Dimensions(WxDxH) | 560×450×230mm |
| Weight | 28Kg |