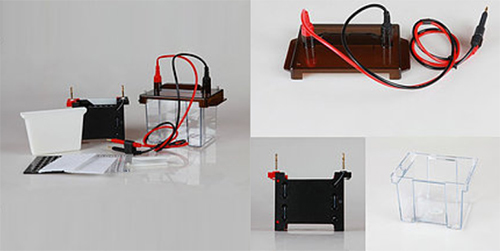 Product Description
Our vertical gel electrophoresis cell VE186 offers high caliber and fast blotting of smaller gels. The modular electrode making changes two 7.5×10 cm gels in only 60 minutes. Chilling is provide through the ice chilling unit, which assimilates heat created in the course of transfers. Our product uses the similar buffer containers same as mini Vertical Gel Electrophoresis Cell VE180. Moreover, two blotches can be operated in the special shaped module. The delicate platinum cable is secured in a recessed opening in the electrode making. In addition, the cathode and anode are 4 cm separated, which offers a high area quality to quick one-hour exchanges. The Ice chilling unit scatters thermal produced amid transfer. It additionally serves to diminish the measure of change buffer in the container. Through its modular outline insignificant buffer utilization and independent chilling, our vertical gel electrophoresis cell VE186 is an effective device for acquiring quality blotching outcomes.

Features :-

VE186 Mini Blotting Electrophoresis Cell provides rapid, high-quality blotting of mini gels
It modular electrode assembly transfers two 7.5×10 cm gels in just one hour
Cooling is provided by the Ice cooling unit, which absorbs heat generated during transfers
VE186 Mini Blotting Electrophoresis Cell module uses the same buffer tank as the VE180 Mini Verticel Gel Electrophoresis Cell.
Two blots can be run in the unique molded module. The fragile platinum wire is protected in a recessed slot in the electrode assembly.
The anode and cathode are 4 cm apart, which provides a high field strength for rapid one-hour transfers.
The Ice cooling unit dissipates heat generated during transfer. It also serves to reduce the amount of transfer buffer in the tank.
With its modular design minimal buffer consumption and self-contained cooling, the VE186 Mini Blotting Electrophoresis Cell is an efficient apparatus for obtaining quality blotting results.
Technical Specifications :-

| | |
| --- | --- |
| Overall dimensions | 16×12×18 cm |
| Maximum gel size | 7.5×10 cm |
| Buffer requirements | 450 ml |
| Gel capacity | 2×VE-180 gels |